From Tay  Laroi, book critic at The Truth About Books and Cheap Reads websites:
Mirror at the Heart of Time is a brilliant conclusion to an equally brilliant series that will leave readers ecstatic, on the edge of their seats, and heart broken to see such great characters go, but it's well worth it.
In the thrilling conclusion of "The Changing Hearts of Ixdhan Daherek," Ixdahan and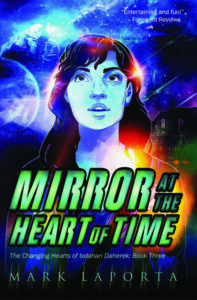 Lena face the universe's greatest threat yet: a force that seeks to erode time itself. After all they've been through together, defeating a culture based on a miracle diet, getting a girl from the future back to her time, and finally figuring out their relationship once and for all should be a piece of cake…right?
In case you haven't noticed, I adore these books. The wonderful characters, the outlandish conflicts, the strange worlds and aliens, all of it. Mirror at the Heart of Time is no exception. In addition everything I loved about the first two books, the trilogy's conclusion reaches a level of maturity that makes it a must-read for fans of YA, especially fans of YA sci-fi and fantasy.
I've talked at lengths about Laporta's great world building and creative story telling in the reviews for Heart of Earth and Heart of Mystery, but I can't emphasize enough how great his characters are, especially in this final installment. It's been quite the adventure watching Ixdahan and Lena grow as characters over the course of these books and Laporta gives them the perfect send off, both for the characters as well the readers, I think.
I know I've mentioned it before, but it's worth mentioning again: If you write YA, sci-fi or otherwise, I highly recommend this series just to see how Laporta writes teenagers, because he does it brilliantly.
So, if you're a fan of YA, sci-fi, or you want to take a few hours and feel like a kid again, check out the entire Changing Hearts series. It's a smart, funny, endearing trip through the cosmos you won't soon forget.
***
Note: Mirror at the Heart of Time was published June 1, 2017 and is available at a bookstore near you, on Amazon and Barnes & Noble. The entire trilogy, The Changing Hearts of Ixdahan Daherek, is also available as a 3-book Kindle-only collection on Amazon, where you can catch up on the entire Ixdahan saga from the beginning.